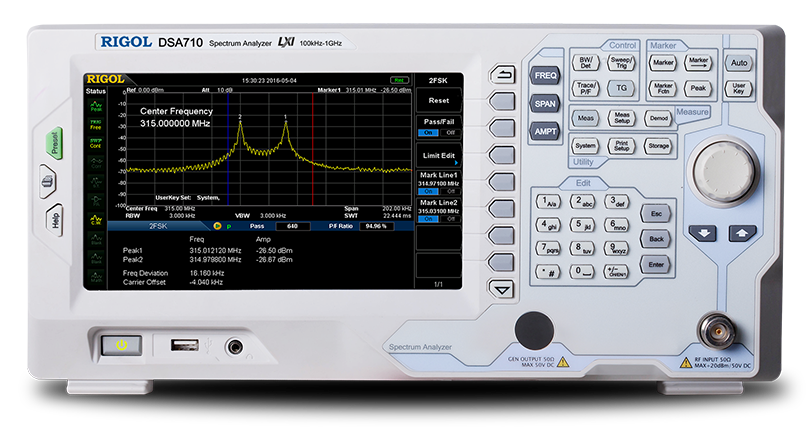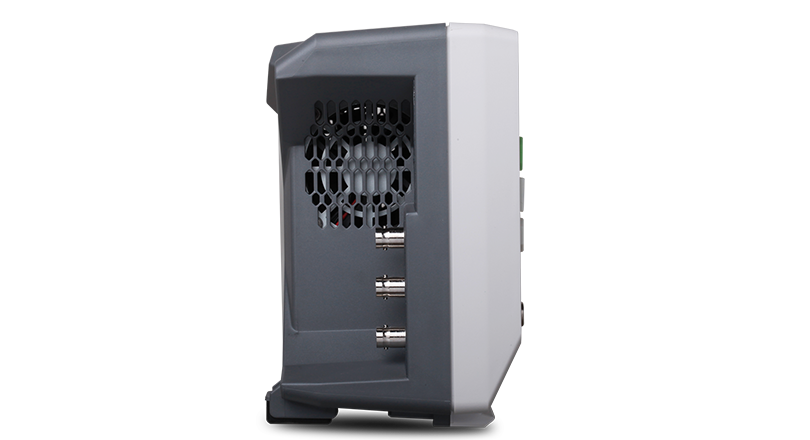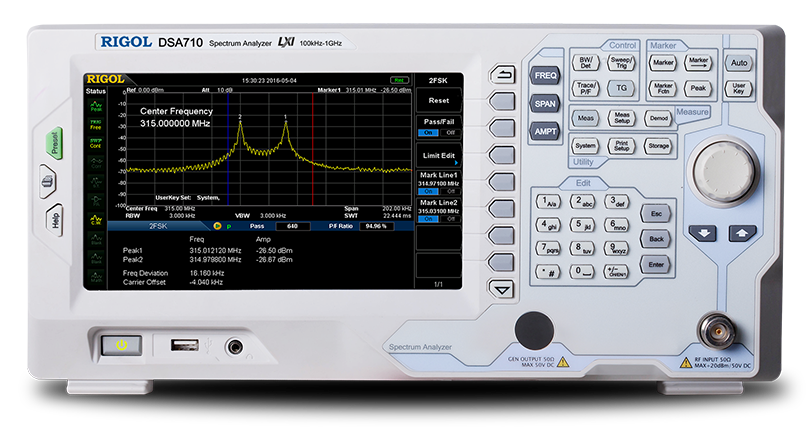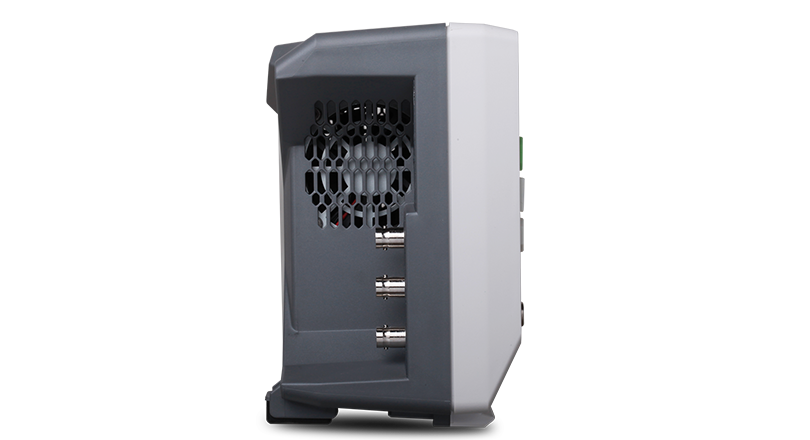 Spectrum Analyzers
DSA700 Series
Entry level spectrum analyzers for education, IoT, hobby, and radio applications 500 MHz and 1 GHz models with option for Seamless Signal Capture, EMI, and more
100kHz~1GHz
Frequency Range
-80dBc/Hz@10kHz
Phase Noise
-130dBm (Normalized to 100Hz)
Display Average Noise Level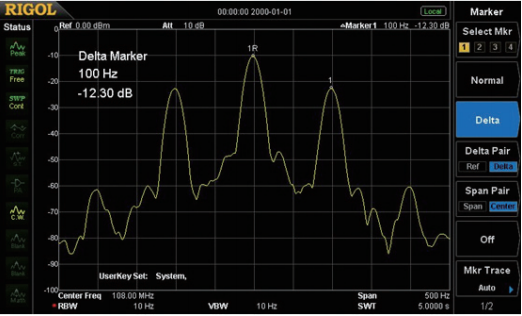 Down to 10Hz Minimum Resolution Bandwidth (RBW)
Provides high resolution to separate signals with similar frequencies enabling easier signal identification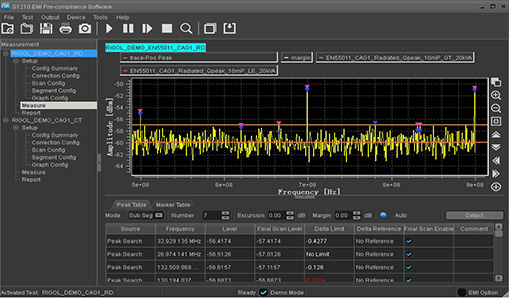 EMI PreCompliance Measurements (Option)
The DSA700 has an EMI filter (6 dB) and a quasi-peak detector to make EMI pre-test/diagnostics more accurate, and complete test and report generation using the host computer software S1210.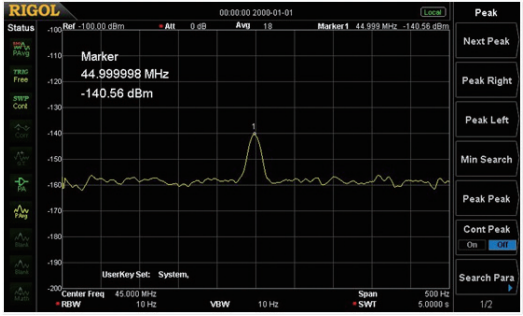 Excellent Noise Floor Reduction for Weak Signal Testing
Testing of weak signals is susceptible to the noise floor of the spectrum analyzer itself. The DSA700 series displays an average noise level as low as -130dBm (normalized to 100Hz), which effectively guarantees the ability to test weak signals.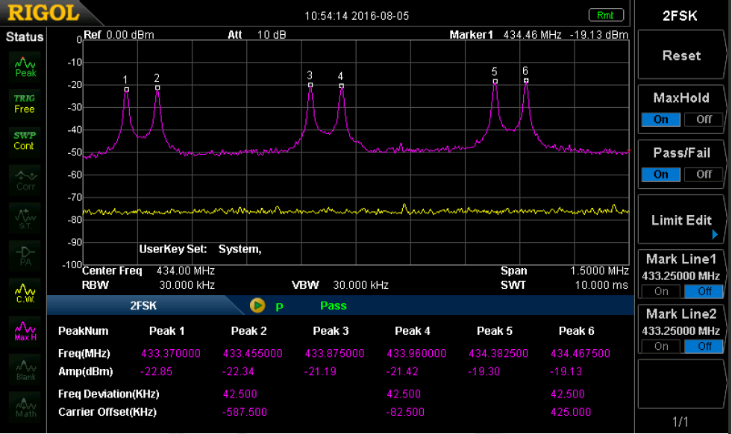 ASK/FSK Signal Capture with Fast Capture
ASK/FSK modulation is usually used for car remote control keys, TPMS tire pressure modules and small wireless modules. The DSA700 can perform ASK/FSK signal capture through the SSC-DSA function extension, and has built-in 2FSK test function to directly obtain parameters such as center frequency, power and offset.
MODEL

FREQUENCY RANGE

DESCRIPTION

PHASE NOISE

DANL

TRACKING SOURCE

PRICE

DSA705

100kHz~500MHz

10Hz~1MHz

-80dBc/Hz@10kHz

-130dBm (Normalized to 100Hz)

-

DSA710

100kHz~1GHz

10Hz~1MHz

-80dBc/Hz@10kHz

-130dBm (Normalized to 100Hz)

-

FUNCTIONAL OPTIONS
AMK-DSA800
Advanced measurement module
EMI-DSA800
EMIFilter and quasi-peak detector kit
ACCESSORIES
USB-GPIB
USB-GPIB adapter
ATT03301H
30dB High Power Attenuator,Maximum power is 100W
RF CATV Kit
Include:50Ω to 75Ωadapter(2pcs)
RF Attenuator Kit
Include:6dBAttenuator(1pcs),10dBAttenuator(2pcs)
RF Adaptor Kit
"Include: N Female-N Femaleadapter(1pcs),N Male -N Male adapter(1pcs),N Male -SMAFemaleadapter(2pcs),N Male -BNCFemaleadapter(2pcs),SMAFemale-SMAFemaleadapter(1pcs),SMA Male -SMA Male adapter(1pcs),BNC T型adapter(1pcs),50Ω SMA负载(1pcs),50Ω BNC阻抗adapter(1pcs)"
CB-NM-SMAM-75-L-12G
N(M)-SMA(M) RF Cable
CB-NM-NM-75-L-12G
N(M)-N(M) RF Cable
NFP-3
Near field probe,Frequency range: 30 MHz to 3 GHz
DSA Utility Kit
Include:N-SMA Cable,BNC-BNC Cable,N-BNC adapter,N-SMA adapter,75Ω-50Ωadapter,900 MHz/1.8 GHz antenna(2pcs),2.4GHz antenna(2pcs)
SOFTWARE
S1210
EMI pre-test software
Ultra Spectrum
DSAPC software
FIRMWARE DOWNLOAD
NAME
VERSION
RELEASE DATE
DOWNLOAD
00.01.18.00.02
2020-02-25
SOFTWARE DOWNLOAD
NAME
VERSION
RELEASE DATE
DOWNLOAD

Hotline

Send Email

Feedback

Services Center